5 Rules for Safely Using Bicycles
5 Rules for Safely Using Bicycles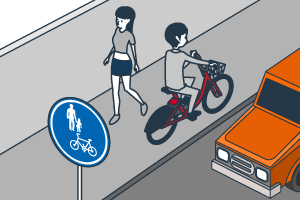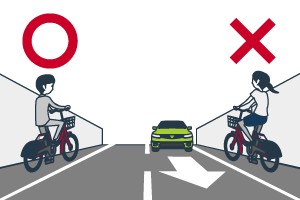 1. In principle, bicycles must be used on the road, not on the sidewalk.
2. Ride on the left-hand side of the road. (Riding on the right-hand side is prohibited.)
3. When riding on the sidewalk, give way to pedestrians by riding slowly on the side closest to the road.
4. Obey safety rules:
- Do not ride after drinking alcohol, do not ride double, and do not ride side-by-side with other bicycles.
- Use a light at night.
- Obey traffic lights and stop at crossings to check safety.
5. Children must wear helmets.
Not only children but let's wear helmets as adults, too!
For details, please see the 5 Rules for Safely Using Bicycles on the website of National Police Agency.