Efforts for bicycle manners and safety
Learn more about the rules for Three-wheel electric vehicles.
Thanks to the understanding that docomo Bike Share bicycle sharing is an easy-to-use, environmentally and health-friendly service, it has grown to be used as many as 19.8 million times a year.
We aim to contribute to healthy and environmentally friendly "urban development" in Japan by providing new mobility services that are rooted in the community and loved by the people.
In order to realize this mission, it is essential that we sincerely listen to the voices and requests of all our customers, town residents, municipalities, governments, and companies, and reflect them in our services.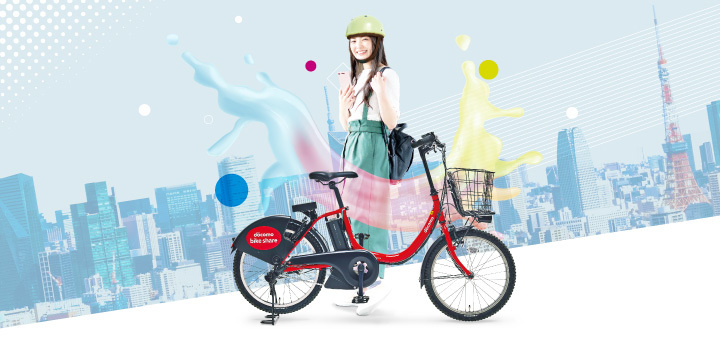 docomo Bike Share Safety Initiatives
Relocation and maintenance of bicycles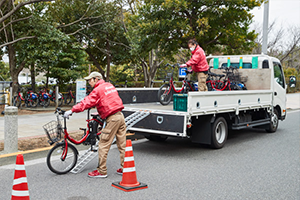 To provide a comfortable travel experience,
we rearrange the placement of bicycles
to the cycle port and maintain the bicycles.
Quick detection of vehicles that are experiencing problems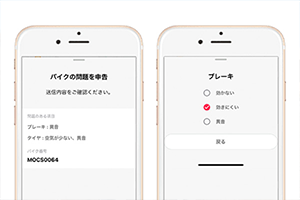 We have the ability for customers to report problems
with their bicycles themselves.
This allows for faster problem detection
and maintenance response.
How do cycle ports keep you safe?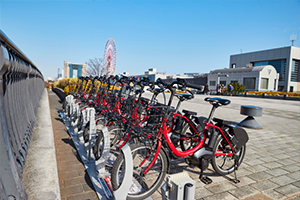 In order to maintain the safety of the cycle ports,
we have set a limit on the number of bicycles
that can be parked at some of the cycle ports.
We ask for the understanding and
cooperation of our customers who use these bike ports,
as this is an important mechanism for maintaining
the landscape and ensuring the safety of our customers
and the residents of the city.
Mobility development in response to customer feedback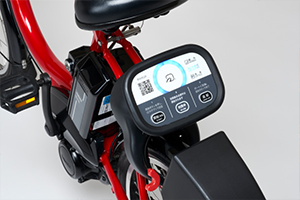 docomo Bikeshare is constantly developing and
updating its bicycles and attachments (keys).
Based on regular customer interviews
and feedback from our customers,
we will continue to make improvements
to ensure that all users can use our service safely.
Distribute safety awareness content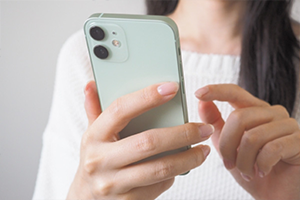 When riding a bicycle, the way you ride
and the clothes you wear can greatly affect your safety.

In addition to raising awareness of the essential
knowledge of traffic manners and rules,
we also provide detailed information
on the dangers of riding a bicycle, such as slipping
after rain or getting caught in a coat,
through our app and website.
In some cases, the following safety measures have been implemented by docomo Bike Share in addition to the above.
-Automatically subscribed to bicycle insurance
-Freeze accounts of users who threaten safety
For your safe use of bicycles
Under the Road Traffic Law, bicycles are vehicles. If a bicycle rider fails to follow the rules and causes an accident, he or she is the aggressor and the bicycle driver is held responsible. The driver himself may also be seriously injured in an accident.
For more information, please see Bicycle is 5 Rules for Safe Driving for Children and Adults (in Japanese). For the proper way to ride a bicycle, see Traffic Rules and Manners for Bicycle Use (Japanese).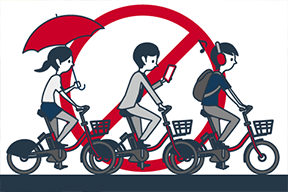 5 Rules for Safely Using Bicycles

1. In principle, cyclists should ride
on the left side of the street and use sidewalks
only in exceptional case.
2. Cyclists must obey traffic lights
at intersectios and check for safety
after coming to a full stop.
3. Use bicycles lights at night.
4. Cyclists are prohibited from riding
under the influence of alcohol.
5. Wear a bicycle helmet.

*As a result of the enforcement of the revised Road Traffic Law, the wearing of helmets by bicycle riders became mandatory from April 1, 2023. Please see here. (Japanese only)
In addition to learning about bicycle accident cases and rules and manners, please use the Tokyo Metropolitan Government Bicycle Safety Learning App to experience bicycle riding, such as starting, stopping, and avoiding obstacles.
Click here to download (Japanese only)
Traffic rules for Three-wheel electric vehicles.
Please obey traffic rules and drive safely.

1. Must carry a driver's license for regular vehicles.
Electric three-wheeled motorcycles require a regular driver's license. A motorcycle license is not acceptable.

2. Traffic rule strict adherence to electricity
Three-wheeled bikes fall under the category of mini-cars under the Road Traffic Law and are treated as ordinary motor vehicles, so the following are prohibited.

-Sidewalk Driving
-Driving in reverse
-right-two-step turn
-Driving on freeways and expressways (urban expressways, Metropolitan Expressways, etc.)

Please obey road traffic laws and drive safely.

3. Bicycle parking lot
Basically, please park bicycles in the bicycle parking lot.
Please park within the frame, regardless of whether parking is for motorcycles or four-wheeled
If the vehicle extends beyond the frame, it may be subject to a citation as a violating vehicle.
Please check the operation and regulations of the area and facilities you are visiting before using them.

4. Recommendation to wear helmets
Helmets are not required, but are recommended for safety reasons.