Why not implement a shared cycle business?
Why not introduce shared bicycles as a new means of transportation to facilitate your daily life and travel to tourist destinations?

We are expanding our bike-sharing service in cooperation with local governments and local businesses nationwide.



Advantages of Implementing a Shared Cycle Business
There are advantages for both municipalities and businesses.
We can also make proposals in line with your issues.
Benefits for Municipalities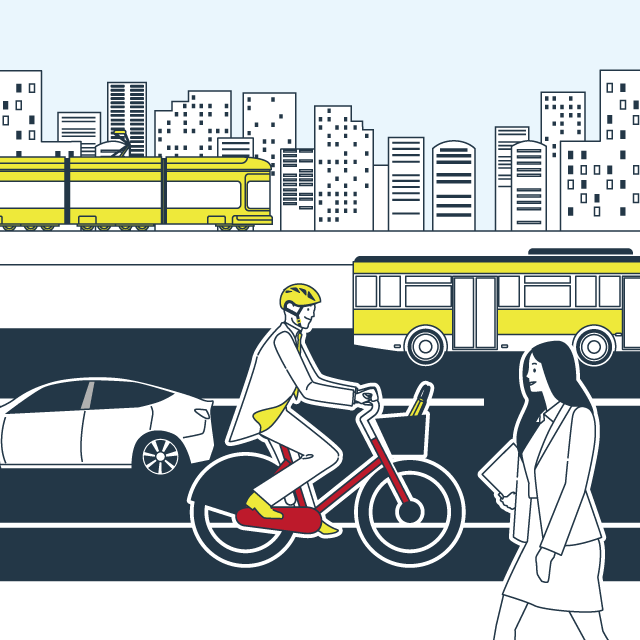 Creation of new transportation infrastructure
Contribute to easing traffic congestion due to reduced car use and improving mobility
throughout the city by strengthening linkages with public transportation.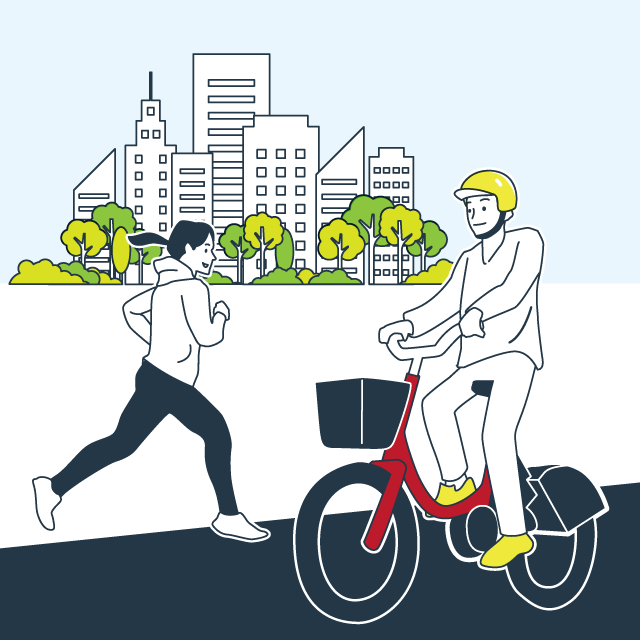 Creating an Attractive Town
By promoting bicycle transportation,
we contribute to environmentally friendly community development
through the reduction of CO2 emissions and to the health of residents
through bicycle lifestyle.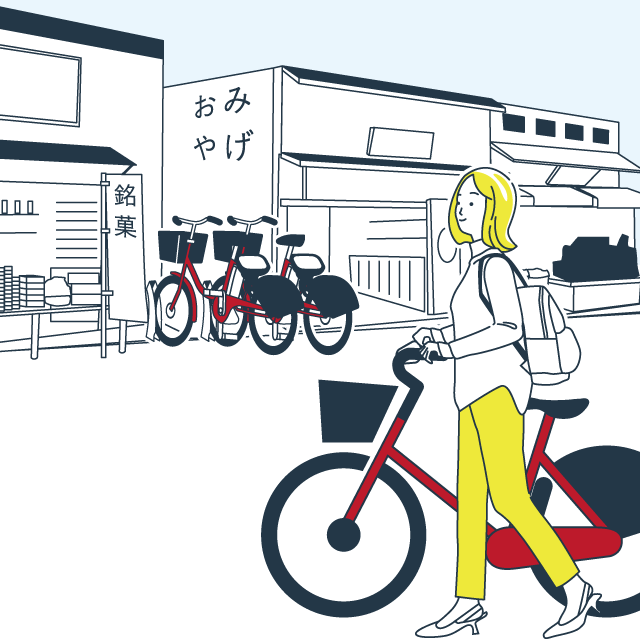 Revitalization of tourism
By promoting free circulation
by bicycle within the sightseeing area,
new sightseeing routes and spots can be uncovered.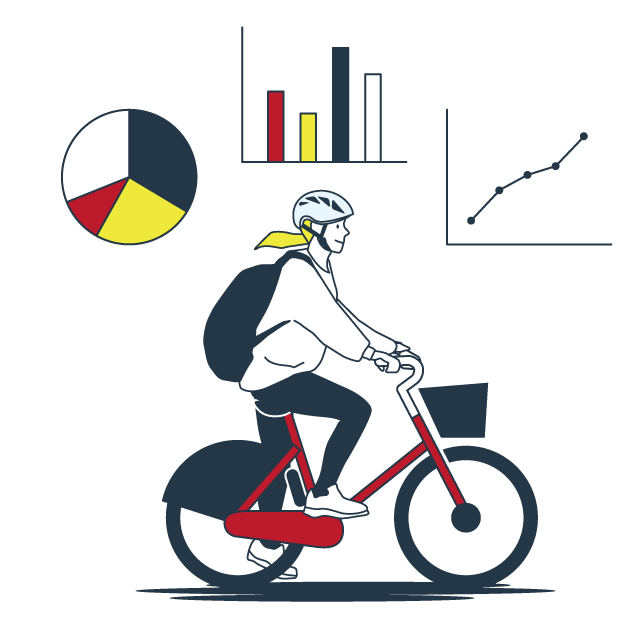 GPS data utilization and trial introduction
City planning and sightseeing routes can be formulated based on bicycle riding data.
We can also conduct demonstration tests using rental bicycles before full-scale introduction.
Please feel free to contact us.
Benefits for Businesses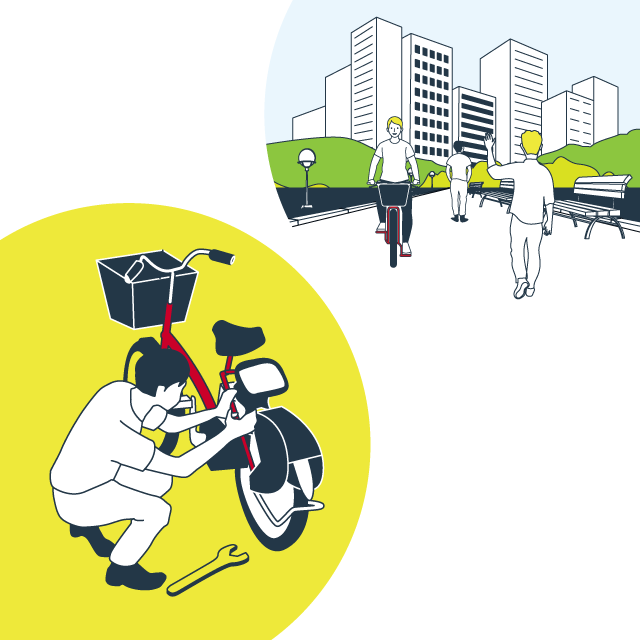 Business operations based on strengths
We can utilize our past strengths in bicycle maintenance, community development, and environmental projects.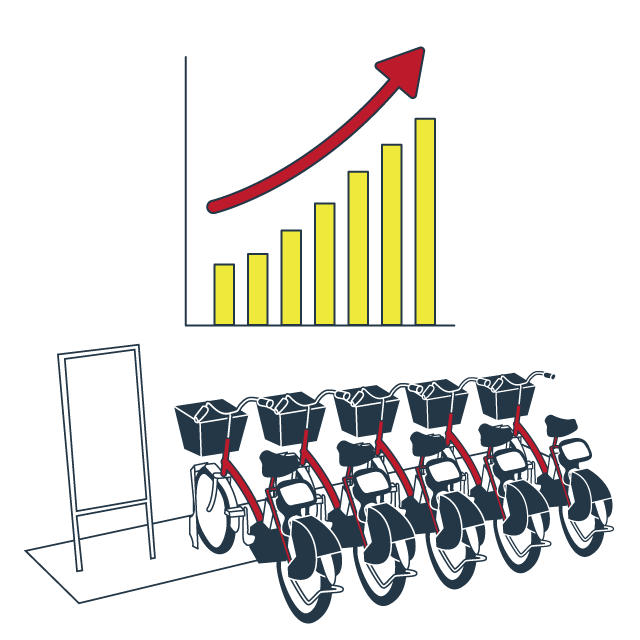 Revenue based on usage
We can expect to generate revenue based on customer satisfaction.
Business scheme
We would like to introduce an example of a business scheme.

Available Areas
Expanding sequentially across Japan!
For more information, please click here.
Frequently Asked Questions
Q.Can I install the system even if the number of vehicles and ports are small?

Installation is possible from one port and one vehicle.
Q.Can the system be installed in limited places such as condominiums for limited users?

Of course it is possible. Conveniently available at hotels and weekly apartments.
Q.Can you introduce the system for a limited period of time?

Possible. Bicycles and systems are also available for rent. We have a wealth of experience in demonstration testing before full-scale introduction.
Q.Is there any subsidy available for the introduction of the system?

We have experience using a variety of grants. Please contact us for the latest information.
Q.Can I set my own pricing plan?

It can be set freely under certain setting limits.
Q.What kind of work is involved in the operation of a business?

There will be battery replacement, port maintenance, bicycle maintenance, repositioning, and call center operations.
Q.Can I outsource my call center?

Yes, 24 hours a day, 7 days a week, in both English and Japanese.
Q.Is there any construction work required to install the port?

None in particular. No power supply work is required.