What is "Bike Share (Community Cycle)"?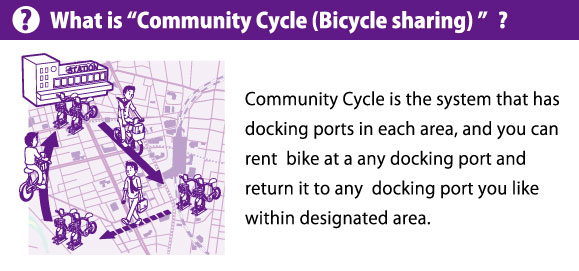 Attention!
Some of the materials (ex. Website, the user's guide, e-mail) might be still offered only in Japanese, and several staffs only speak Japanese. We apologize in advance for any inconvenience caused by insufficient foreign language service.
Rental Fee・Operating Hours
Payment can be done by credit card Or you can also purchase by transportation IC card on Kiosk.
You can select a plan from below.
Plan
Basic Fee
Over Time Fee
Individual (Member)
One Trip
Membership

First 30 min:JPY 100 including tax

More than 30 minutes per ride JPY 100/30 min
Individual (Tourist)

One Day Pass

\1010
including tax

No additional charges
*You can also buy a 1/1.5-day pass (\1520) at counter .
Service Terms and ConditionsDownload >